FAQ's
What to expect from start to finish
SPC will email you a quote. Once you accept the quote, SPC will begin working on your artwork. Typically you will see artwork within 24-48 hours for your approval BEFORE we run full production. Once you approve our artwork, we will schedule production!
What Products are Available?
Patches (embroidered, sublimated, woven, chenille, leather), embroidery & screening of ALL wearing apparel, neckerchiefs, ribbons, mugs, pins, lanyards, plaques, medals, coins, embroidered keychains, luggage tags & more. If you don't see an item listed, please contact us!
What information do I need to provide to SPC to receive a quote?
Size (width x length) and shape

Picture of your artwork (prefer jpeg or pdf)

Quantity needed

70% or 100% embroidered patch

Type of backing (heat seal, plastic, Velcro, no backing)

If you need any specialty threads (metallic) or need a button loop

What colors are available?
Twill Colors: Click Here
Thread Colors: Click Here
Do I need to have artwork?
Don't worry…If you do not have artwork, SPC will work with you and your ideas to create the perfect product for you!

Timeframe
Standard Lead Time is 4 weeks.
Super Rush Premium Delivery Service is 2.5 weeks.


Is there a minimum?
There is no minimum.

What are the price breaks?
Patch
100, 200, 300, 500, 1000, 2000, 3000, 5000, 10000+ call for a quote

Wearing Apparel: (There is a 12 piece minimum)
12, 36, 72, 144, 300, 600+ call for a quote


Methods of Payment
Check, money order, cash, or PayPal (additional 4% fee will apply). The only way we accept credit card is via PayPal.
Common Definitions:
70% versus 100% embroidered patch: On a 70% embroidered patch 70% of the patch is embroidered and 30% of the remaining twill is left unembroidered. On a 100% embroidered patch the whole patch is fully embroidered.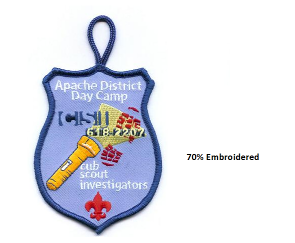 Merrowed (rolled) edge border: The outside border is rolled over from the top to the bottom and locked in place.
Cut & Stitched border: The border is stitched only on the top face of the patch.